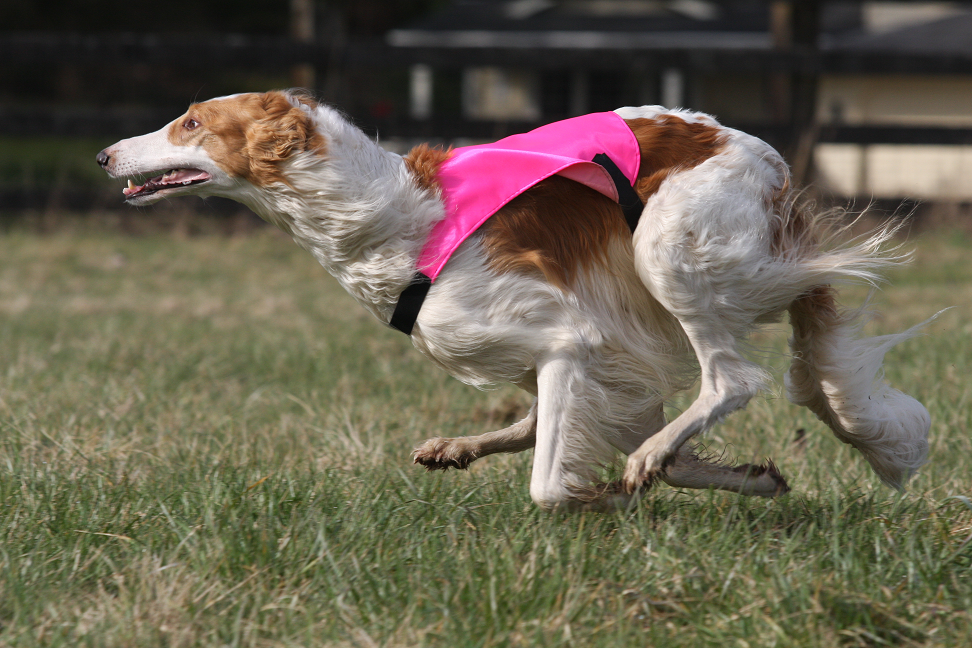 I lost my Hobby  in 2011 to osteosacroma (bone cancer). He was 8 years old, and lived to run. He didn't care so much for catching, just chasing. He would find any excuse to run. A daily joy was racing the school bus, the cyclist going by, the neighbor on his motorcycle, or any one going by.
I took him lure coursing, and he so loved it, but he would play with the other dogs if he lost sight of the lure. Playing with others on course is a big no-no. It was at one of these coursing meets where the above photo was taken.
In March 2012, the Borzoi Breed National Specialty was held in Richland. One of the first events was a lure coursing meet. I pulled into the parking lot only to see the photographer's car with this photo mounted to the side of his car. I hadn't been to a lure coursing since the summer before Hobby started limping, so I was already filled with mixed emotions about being there. When I saw the image of my beloved Hobby, I burst into tears. Just knowing how much the dog loved to run and how quickly he was gone, it hurt so much, and yet I couldn't be more proud to have owned such a wonderful dog.
I told the photographer about this boy passing away only a few months earlier. Amazingly the photographer offered to change the image he was using on all his advertising: business cards, pamphlets, plaques and his website. No, there could be no more fitting tribute to such a love to run. I'm happy he got such a great shot, and I'm thrilled that he thought enough of my boy to use his image in all the advertising.
Hobby, a sweet soul
Hobby started limping in April, and by the end of August, he was in such pain, that it would have been inhumane to make him endure any longer. It was very hard to say good bye to such a fun, loving wonderful boy. I miss him and his racing along the road when I leave the house, or coming home.
When I decided to take Hobby coursing, I knew I needed to be able to call him back to me. Sight hounds have a reputation for running blind. They focus in on a target and blindly chase it. I took a class called "Really Reliable Recall"; which is training originated by Leslie Nelson, a woman who raised Afghan hounds. I now suggest everyone with a dog take at least one day of recall training.
Shortly after just one day of training, I took Hobby to a lure coursing, where he was the field test dog (to see if the course was workable for the racing dogs). It was an unfenced field, and as luck would have it, the lure broke with Hobby at the farthest corner. When I was told to retrieve my dog, I tried my "Really Reliable Recall." The only thing is, Hobby's most favorite thing in the world was to chase, so it was a real struggle for him. He wanted to watch for the lure to move again, but he also wanted to come to me for his most favorite treats. After some long difficult minutes, torn between the plastic bag tied to a pulley line, or treats, finally the lure was fixed, and the bag brought him to me and his favorite treats, so he got the best of both; and, I got to see just how reliable the recall could be, just after one day of training.
Hobby was sweet loving soul. I miss how he used to play catch with himself, and how he knew that door knobs turn, so he'd try putting his paw on the knob. Luckily he never figured out how to turn it. He did learn how to get a tennis ball from just sitting still on the floor to bouncing off the ceiling with his foot. Yes, there are marks on the ceiling from him figuring out how to step on the ball just so to make it bounce.
He was an amazingly happy dog. When I tried to teach him some basic obedience, you could watch him catch on to what I was requesting from him. When I was trying to teach him to lie down, one day when he finally got the command, he hopped way up and then down on the floor. I loved it so much that he soon was getting rewarded for just hopping, and by the end of the year, my hand signal no longer meant "down," it meant "hop." He never forgot how much I loved his hop.