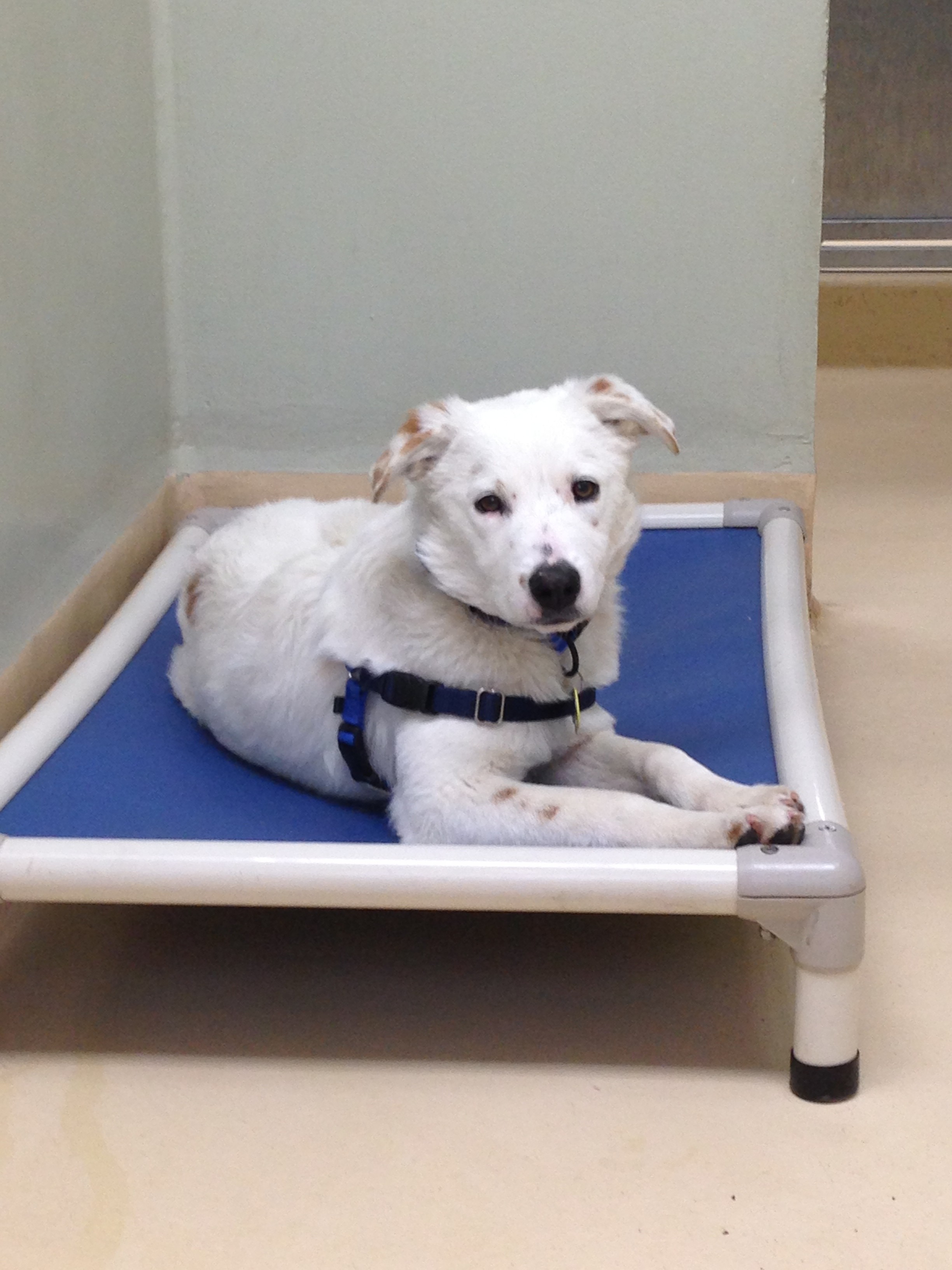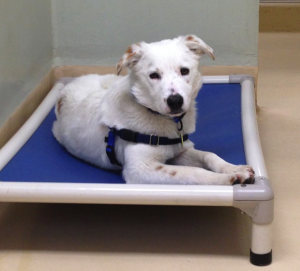 It was a very sad day in December, when we lost our dog, Jake. It was one of the worst days in my whole life. Jake was an 8-year-old Lab border collie that we had gotten from a program called Second Chance Companions. I had a friend that volunteered for Second Chance and they were having an adoption event at PetCo; we were looking for a dog to adopt. My husband, son and I went to the event together. My son Randy was 11 years old and anxious to find a puppy. When we got there, there were cats everywhere that were available to adopt. Then in the corner of the store, I spotted a black lab. The lab was about six months old but was afraid of his own shadow, saying it was shy was an understatement. The puppy was being fostered by a family that had a few other large dogs. One of the dogs was Jake's sister, and the foster family told us that one of the dogs liked to take wallets, keys and other items into the yard when no one was looking. Of course, they didn't know which dog was the little thief, only that it was one of the three. I was hoping it was not Jakey that did those things, but he was so shy, I thought it was unlikely.
My husband starting looking around and asking "where are the other dogs?" Although Jim liked the dog, it bothered him that he was so shy. The foster parents said, "This is the only dog today."
My son and I wanted the dog, but Jim wasn't all that thrilled. I told Jim the dog would warm up to him, just give him some time. The foster family came over to our house to make sure we had a fenced yard and everything a large dog would need. They seemed a little sad, but finally left and gave us their phone number telling us we could call them and return Jake if it did not work out. I was determined that we were going to help Jake even though he was terrified of people. You could not directly look at Jake without him getting scared and looking away. You had to sit on the floor and wait for Jake to come to you and you could not look at him at all. This went on for three days and then Jim said, "Maybe we should give Jake back, he does not seem to be warming up to us." Simultaneously, my son and I said, "We can't take him back, he's been rejected too many times and he needs a home."
The funny thing was, Jake immediately started warming up to us after that, especially Jim. We figured out that Jake had a three-day rule; in three days he decided if he liked you or not.
We had the joy of Jakey for eight years, and he ended up liking Jim the best. He was a great dog and had his own personality. I could tell you some great Jake stories: that dog was hilarious and extremely smart. I remember one day putting him outside so I could mop the floor. All of the sudden I heard the screen slide, and there was Jake on the wet floor. He had figured out how to open the screen with this paw. That dog used his paws like Edward Scissor Hands.
One day we noticed that Jakey seemed to be lethargic and very bloated. Jim told me he had a very bad feeling and he was right. Jakey had spleen cancer and it was spreading. He was very anemic and on borrowed time and his quality of life would deteriorate. His tumor could rupture and he could die very suddenly and painfully. It was the hardest decision ever, but we decided to gather the family together and have him put to sleep. We all cried our eyes out, but I thought we had done the right thing because Jakey did not deserve to suffer and this way we could tell him how much we loved him all at once.
I missed Jakey like crazy. I missed the clicking of his feet on the floor, his hugs, I missed walking him, I missed his playful growling and I even missed his exasperated sigh. I told Jim I wanted to adopt another dog, but he said he wasn't sure if he was ready. The new doggy would have very big shoes to fill, because Jakey was the best and could NEVER be replaced.
I finally talked Jim into going to the Humane Society "just to look." It was not easy to get Jim to go with me, and every dog he saw just didn't seem like the right one. Then we saw this little white dog with beautiful golden eyes and tan spots. He had the cutest face and sweetest eyes. I begged Jim into getting him into a room so we could visit with him. The shelter told us his name was Handsome Harry which Jim thought was ridiculous. We took Harry into a room to visit and he was shy, not as shy as Jakey, but still shy. The comments on his kennel said he warmed up to people fast, but was shy at first. Harry was from the country and not used to being a city slicker and the shelter was very noisy. I tried to get Harry to walk on the leash but he was not really very interested. I don't think he had much practice with leashes. He played with the tennis ball a little, but seemed most interested in getting the treats from the windowsill. We put a 24 hour hold on Harry and looked around. Jim didn't seem to want to commit. However, we had our son come back with us and check out Harry. When we went back to visit Harry, another family was visiting with him. My eyes flashed green, I was jealous. We finally got to visit with Harry, and my son loved him. Harry started to warm up to us a little bit and seemed so sweet. Harry was 8 months old, so he was still a pup but not super small.
We decided to take Harry home. As they were processing our paperwork, Jim and Randy went over and got a new name tag. The new name tag said Chance. Harry was brought to the Humane Society through a program called Second Chance, and Jake had been adopted through an organization called Second Chance, so Jim decided the name was fitting.
We finally loaded Chance into the car. He was so scared, he had to be carried like a baby. His heart was beating fast all the way home in the car. When we finally got home, I told Chance this was his new home and put him up on our bed. He got friendlier and more loving every day and although he gets into lots of mischief, he is a very loving dog. Chance likes to "kiss attack" his family at least once a day. Although he was not Jakey, he was turning out to be a wonderful friend and we already loved him. There were times when Jim said he felt guilty about getting Chance but I told him that I knew that Jakey would want us to help another dog as we had helped him. Jakey had added so much to our life, and we had added so much to his. People and dogs just belong together, and when I have had the worst day in the world, I always look forward to coming home and getting a big hug and kiss from Chance.