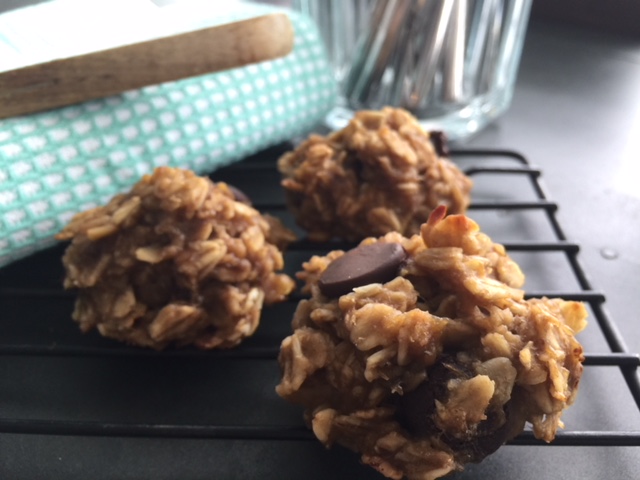 Ready or not, here comes another recipe to use up those ripe bananas.  Fast, easy, and so simple you can make it from memory, this Oatmeal Chocolate Chip Breakfast Cookie recipe from Skinnytaste is perfect for these last few rushed weeks of school.  While I liked the original recipe, on batch number two I couldn't resist adding in some peanut butter, which I think made these even better.  Use gluten-free oats (I like the ones from Bob's Red Mill) to make these gluten-free.  Make 'em and take 'em –  to a friend, to a picnic, as a hostess gift, or pack along for your road or plane trip.  Make these once and I guarantee you'll be making them again and again.
Oatmeal Chocolate Chip Breakfast Cookies
2 medium ripe bananas
1 cup rolled oats (gluten-free if desired)
1/4 cup chocolate chips
1/4 cup peanut butter (optional)
Preheat oven to 350º F.  Line a baking sheet with parchment paper or spray a non-stick sheet with cooking spray. Mash bananas in a medium bowl.  Add peanut butter, if using, and mix well.  Stir in oats.  Fold in chocolate chips.  Place tablespoonfuls about 1 1/2 inch apart on baking sheet.  Bake for 15 minutes.  Store covered.
Comments
---