MLS POSSESSION WITH PURPOSE POWER RANKINGS – AS OF 19 AUGUST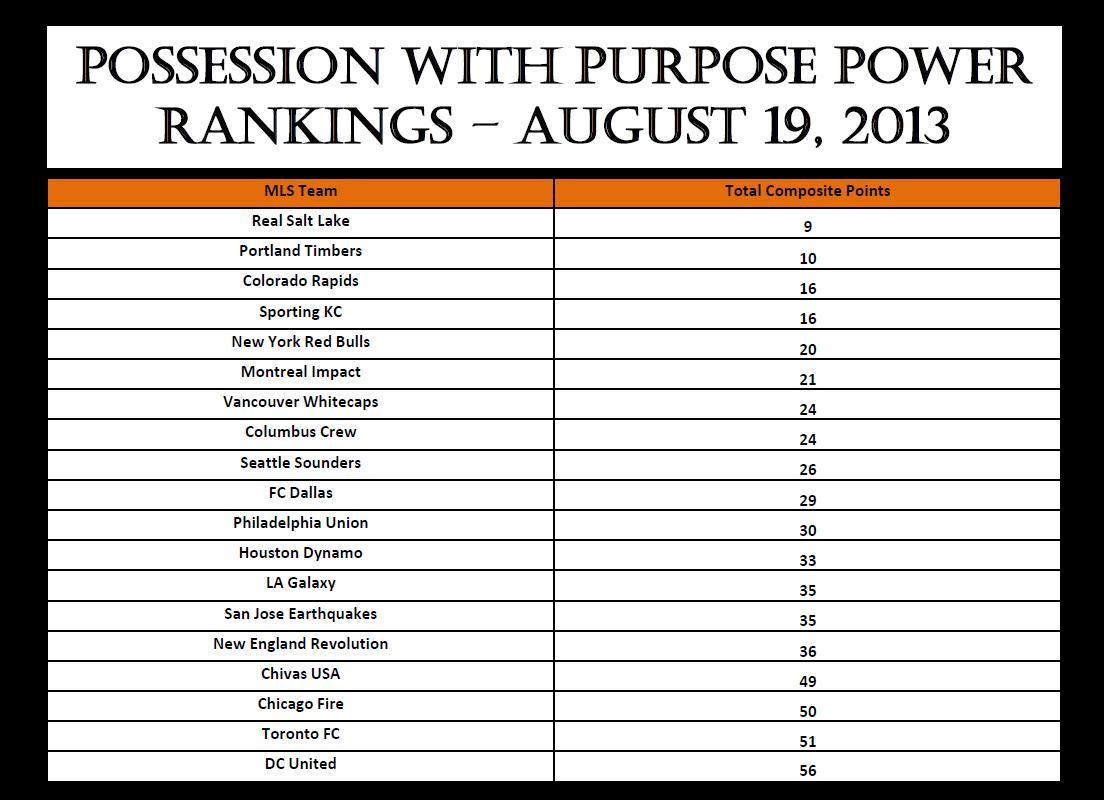 Two objectives in this initial article; first is to briefly set the conditions for my regular weekly MLS Possession with Purpose Power Rankings and second, the rankings and corresponding analysis to go with them.
Setting the conditions…  there are three categories used to create the Composite points total that stems from empirical data that provides:  
Category 1: Possession with Purpose Attacking Efficiency Index; an Index for team attacking performance in the final third,
Category 2: Possession with Purpose Defending Efficiency Index; an Index for team defending performance in the final third, and
Category 3: Current points in the MLS League Table for each team from first to worst.
Definitions behind the categories are provided here… recommend this link be read to understand the train of thought in combining these three categories into one overall ranking assessment tool.
Definitions on how the Attacking Efficiency and Defending Efficiency Indices are developed and provided here…  recommend this link be read to understand the empirical data behind the Indices.
Here's the first week of my weekly MLS Possession with Purpose Power Rankings for your consideration…
Real Salt Lake:  Although Real Salt Lake took a pretty good beating this weekend against the LA Galaxy it wasn't enough to boot them for the top of the pillar.  I agree four goals against is quite a bit but basically, RSL is top or near top in the final third for both attacking and defending and they lead the league in the Supporters Shield race.  It will take a run of bad form to really push them out of this position.
Portland Timbers:  Wherever that talk of a slump came from remains unclear, but for now it's inaccurate and pretty much has been since the dog days of June are well behind the Timbers.  Portland have continued to be near the top in their defending third (with extended helping hands by Mister Fantastic), Donovan Ricketts, and they have always been in the top five on the attack.  Taking three points from FC Dallas puts them at number 2; speaking of slumps (more later on FC Dallas).  What's even more intriguing is the addition of Alvas Powell into the back-four, another change this year, and they just don't seem to miss a beat in working to shut down the opponent.  The match up this Wednesday in JELD-WEN is truly a match-up of two heavy hitters and proves you don't need to spend millions of dollars to field a strong team (both sides really!).
Colorado Rapids:  Like many I suppose I continue to see/view this team with shaded glasses; not sure why but perhaps it was the convincing loss against Portland (3-nil) earlier this year that colors my view a bit poorly.  Nevertheless Colorado continue to remain one of the most efficient teams in the attacking final third while also lining up in the top ten for the defending final third.  When you are that good (collectively) on both sides of the final third while also hanging tough with the second highest points total in the league it should be worth something.  For now it is and Colorado ekes out Sporting for third.
Sporting KC:  Being unlucky in any game; whether it's a dubious call by the referee or any unlucky burst of emotion in a 90 odd minute game happens; doing 'enough' to get a draw against a San Jose team that continues to impress doesn't cut it.  KC remain, and probably will do through the rest of this season, one of the top defending teams in MLS while also offering up some dangerous attacking options led by Zusi.  A quality side but do they have the same overall pedigree to stay atop the Eastern Conference the rest of the way?
New York Red Bulls:  Their draw this weekend against Philadelphia had just as much to do with their drop behind Colorado as anything.  The Red Bulls did try a new wrinkle with Holgersson playing right fullback but all for not.  Bottom line here, as long as they have the likes of Cahill and Henry playing and contributing to some form of attack they will likely weather any storm and continue to sustain a position somewhere in the top ten.  And, while not a popular view with some New York has spent some good money this year and anything short of a battle in the final for an MLS Championship will be considered 'not good enough'.
Montreal Impact:  A 2-1 win is just that, a win and three points.  Coming against DC United doesn't really matter – they went in to the game expecting to win and they left the game winning.  I'm not sure how well the next few games will go given they have Houston, Philadelphia coming up in the near term with a mirror image team in New England next while the ever odd performing Columbus follow.  If folks think it is tight out west I can see the east side being even tighter as the season winds down.
Vancouver Whitecaps:   Although away to Colorado this past weekend Vancouver, in my view, had a great opportunity to stamp some authority on their position out west.  In dropping two goals and three points to a western rival they missed their chance.  And while they may be entertaining LA at home next weekend they have three tough road matches with FC Dallas, San Jose and Montreal before returning to BC Place to host Real Salt Lake.  If ever there was a time for a team not to go in a slump it would be now.  Dropping 3 of 5 in those matches could see Seattle, Dallas and San Jose pass them up in the playoff hunt.
Columbus Crew:  No doubt many disagree with this ranking given their current points total; and  yes the number of red cards opponents have seen facing Columbus may skew the numbers but however viewed Columbus continue to perform well in the defending third and sometimes defense can help you win games, or at least not lose them.  I suppose the thing that stands out to me most is their goals against at (-1).  That's 3 better than FC Dallas (33 points) and 8 better than San Jose (also on 33 points).  An argument could be made that they have been unlucky this year – those who have seen 'red' against them however probably feel it goes the other way.
Seattle Sounders:  Hard to figure these guys sometimes – with landing Dempsey the expectations are inordinately large that they will make the playoffs.  For now they are better than average in their defending third while just below average in the attacking third.  Dempsey "should" fix that 'just below average in the attacking third' but he's not going to be there for every game here on out.  The critical game for Seattle comes this weekend as 60,000 fans will turn their 120,000 eyes towards the pitch for a battle royal between the Sounders and Timbers.
FC Dallas:  They should probably bit a bit lower in the rankings this week given the pretty comprehensive attacking display offered up by Portland.  For now however I remain steadfast that their attack is not as anemic as it looks as they still rank 7th overall in final third attacking efficiency.  But here's the rub with Dallas; the last time they took three points in an MLS regular season game was the 25th of May; since then they have taken  just six out of a possible 33 points – now THAT's a SLUMP!  If it wasn't for that early season run who knows where Dallas would be in the standings today…  They deserve worse but this ranking is not overly weighed in one area or another and it's good to see Dallas in a high position like this as it represents to me the 'danger' that still resides with this team if they stop leaking goals and start scoring goals.
Philadelphia Union:  Here's where I think the bit about luck comes into play.  Last year San Jose seemed unstoppable even though they played a direct attacking approach.  For me, this year, the shining "San Jose" example is Philadelphia.  At this point they are 15th worst in overall defending efficiency within their final third and only 8th best in final third attacking efficiency.  What are getting them points are timely goals by McInerney and Casey… kinda like a tandem akin to Gordon/Lenhart and Wondolowski.  Whether or not this streak of direct attacking type style continues to work is unclear but I think a great matchup in 3 weeks time will be when they travel to Buck Shaw Stadium and play their clone.
Houston Dynamo:  Some might consider this team to be the sleeper in the east; I'm kinda leaning that way though I still hold out hope for a late push by Columbus.  When they recently entertained Seattle this weekend they pretty much proved to me that the 'name of an opponent' means nothing to a team that attacks together and defends together.  At this stage Houston is in 12th place on both ends of the pitch while sitting on 36 points.  Solid and with a slight bit of magic in the attacking end and they can probably go toe-to-toe and beat anybody in this league.
LA Galaxy:  For those who have been wondering why LA falls so low in this ranking it's pretty much down to how low they are in 'efficiency'.  There is no question they are the top team in MLS when it comes to penetrating and working within the final third.  They average 19 more passing attempts than the next closest team (Real Salt Lake) but they average just slightly less goals per game than Real.  That approach, of 'quantity' versus 'quality', pushes them lower as does their inconsistency in the defending third.  At this time they are no better than 13th in overall defending efficiency within their own third.  This doesn't mean LA can't still win the Championship – they proved the last two years that all you need to do is get in the playoffs and let the money do the talking… let's hope it's not that boring again this year.  I also like where LA fit into this power ranking as it doesn't glamorize the money that LA has sunk into this team this year and it really points out how performance in the defending third is just as important as the attacking third.  LA have been really poor in letting in late goals… this ranking fits that 'poor performance'.
San Jose:  An interesting dynamic as the season begins to wind down is a revival of sorts in San Jose; they've not abandoned the direct attack approach and even though they don't have the same late goal habits like they did last year they are on a bit of a roll.  I'm not sure what all the fuss was about with Sporting this weekend but the defense for San Jose held and at this point in the season defending in their own final third has been more a strength than weakness.  A reasonable expectation going in would be Sporting taking three points there and Vermes, upon reflection, would have been happy with one!?!   I don't get it and with San Jose taking 12 out of a possible 15 points in the last five games there is no question they are on a roll – what will prove tough is going on the road to Dallas who are probably fuming mad with their recent run and then heading up north in their visit to play LA.  Can you say there is potential for a 'screeching halt'?
New England Revolution:  Not much of a mystery here although they did just take three points against Chicago; an Eastern Conference rival so those three points were critical and pushed them past Chicago.  Both those teams have struggled at times this year and the increased playing time for Fagundez and the addition of Agudelo (4 goals in 5 games) have made this team better; but is it enough to catch a hotter Houston team?  For now there is still time but maybe it's not Houston who should look over their shoulder; maybe it's Philadelphia?
Chivas USA:  They are not quite the weak-kneed team that started out this season – one thing you can say about Chivas, they might only generate 50 or so passes in the attacking final third but they can and do score goals even with that low volume of attack.  It would be reasonable to expect that their low volume in the attacking third would mean they focus more on defending in their own third.  Not really the case; this is probably more down to lack of talent, Bocanegra aside, than anything else.  At this point they are 16th overall in defending their final third… in other words they might score a goal but their own combined keeper crew has saved just 66% of shots on goal faced.  And with only 18 points in the league table it's hard to argue they are worthy of any position better than 16th.
Chicago Fire:  I can hear the boo-birds now with this ranking but here's why; simply stated they are not efficient in scoring goals relative to the overall activity they generate in their attacking third.  On top of that they simply don't seem to protect their own goal that much either as they are dead last in defending efficiency of their final third.  As a reminder – defensive activities occur relative to the opponent and their attack; sometimes the opponent scores, sometimes they lose the ball due to weak play and sometimes they lose the ball based upon defending activities.  As for their defensive activities, Chicago have a 40% rating when looking to disrupt the opponents passing attacking in their defending third.  That is the lowest 'influence' any team has in defending against the opponents passing attack.   Conversely Sporting KC disrupts the opponents passing attack by 63%.  Bottom line here is that the opponent's poor play has more to do with Chicago stopping the opponent than Chicago!
Toronto FC:  These guys are pretty much bottom of the table in everything outside of DC United.  Toronto are 17th best in final third attacking, 17th best in final third defending and are 17th best for points in the league table.  One thing that is apparent is their consistency in simply not being that good.  Clearly the possession with purpose attacking and defending efficiency data directly correlate to position in the league standings.
DC United:  Not much to offer here with these guys either – poor performances in the early stages of this year have led to changes in personnel; and if Olsen is to keep his job (which I think he should) there will be even more changes next year.  For now there is no room for DC United to do anything but improve.
Here's the complete table with the final Composite scores for all 19 teams in MLS:
In closing –
The primary source for data in this analysis has been OPTA and the OPTA Chalkboard; every game has been analyzed so far this year and only two games have been excluded due to missing OPTA Chalkboard data.  Those games were Vancouver vs New England on June 15 and the game between Chicago Fire and Sporting KC on July 7th.
I am hopeful of comments and thoughts from others on this effort.  Bottom line for me is I think and feel there is value in assessing and analyzing final third activities across the board.  If value presents itself here then perhaps there is value in other leagues as well as perhaps the World Cup next year.
I for one have always looked to 'get the panacea' of empirical data that had value but didn't get into the "eaches" of individual players – I see this game as a team game and for me this 'team analysis' scratches that itch; others may have a different view or say that a whole lot better than me…
With that some early feedback requested I include this table below…  Click to enlarge…
My thanks to James Dennis, Simon Banoub, and Simon Farrant for their patience in helping me to better understand some of the nuances in leveraging OPTA Chalkboard data.  This data is readily available for anyone who follows MLS and is familiar with how to use the OPTA Chalkboard.
My thanks to Ben Puglsey and others at @statsbomb for helping me to better understand some nuances in data collection and where other types of data are readily available for all to use in their analysis and a shout out to Harrison Crow for our chats about 'possession and passing' and Matthew Hoffman for giving me a basic foundation for a new Defending Efficiency Index while helping me to improve my possession with purpose analysis.
My thanks to others in the past 24 hours for additional feedback – theaxepdx, kip, shawn. 
Next up my Match Preview between the top two teams in MLS, to date, this year; can't wait for the kickoff Wednesday night at 8:00 PM on ROOT Sports TV and MLS Live.