Local Community Radio for The Blind and Disabled and MORE for Clark County
Dear Clark County Residents,
Things have really changed and improved to better serve our community through TWO unique live on line 7/24/365 Radio Networks serving Clark County/Vancouver..
They are CGR(Community Growth Radio)a.k.a Northwest Audio Information Service, both located and operated locally in Vancouver by one person only(Gerald Gaule).
I started these some time ago and are the ONLY full time such services in SW Washington and Oregon.
Many ask what is a Radio Reading Service/Audio Service, CGR NWAIS is one of 30 plus in the US alone that offers very target specific programming such as News,Info,Book-Magazine and Newspaper Readings by non plaid volunteers and program producers.
Since both are community based and target specific and much of the programming on these on line 7/24/365 Networks are free and many in the US do require a membership to join(you must be blind or disabled to listen)BUT CGR/NWAIS Radio does not require a password or membership.
Many services are heard on line and through apps for phone and devices such as CGR/NWAIS Radio and many are carried on Cable Access Channels for easy access, Sadly CGR/NWAIS Radio is not(some have felt CGR/NWAIS does not fill the need locally for the blind and disabled).
But the above does serve many and does fill a need and is the ONLY outlet in SW Washington and Oregon and that much of the programming is NOT offered on any local AM/FM or local low power FM station. In the start CGR/NWAIS radio was offered to The WSSB in Vancouver but declined.
CGR/NWAIS is not operated by any other broadcaster or interest in ownership.
There is a plan for CGR Radio to be carried on a un used HD FM channel for easy access and those who do not want or chose to have internet. The average audience is 54-90.
Currently CGR 1 is re-broadcasted on a FM channel in Richland Washington via KFAE 89.1 and their Closed Circuit 67KHz system, needing a special pre tuned FM Radio to get the special signal and to this day some services still use this method.
Now being said, some programming is unique and not heard, there are TWO Networks..CGR 1 does offer very specific programming such as new,info,community and readings for the blind and disabled in 40 plus languages for the non English Speaker who is blind and or disabled…this is NOT offered for the blind and disabled ONLY by any other AM/FM or low power or internet based broadcaster.
To be honest CGR/NWAIS Radio is listener supported and sponsor supported via advertising in order to make the networks operate and grow.
But at time CGR/NWAIS Radio does offer programming that is requested in order to serve our community in better ways.
CGR 2 is a secondary network and does offer programming in certain parts of the day such ad FARM and AG programming that serves the growing Clark County AG population with local News, Weather and Info for the Farmers-Growers and Ranchers with programming from American AG Network and is the only network affiliate west of Montana.
CGR 2 has added local sports such as Ridgefield High School coverage(home games)and I am waiting word and approval to carry WCL Baseball…"Ridgefield Raptors".
CGR 2 has Oldies from 1954-79(over 67,000 songs)and many are from Records from my collection…this is heard a various times of the day and on BOTH Networks Old Time Radio(11,000 titles)from 1929-62 is heard at various times.
The goal is to serve in the best way to our growing community and mainly non duplicated programming, I am not here to compete with any AM/FM or internet station or any low power FM station but to somehow provide the best.
CGR/NWAIS can broadcast live on location with a two week notice.
NOTE: To be honest CGR 2 did carry Country formatted music, but had to drop it due to "pressure" from a metro area Country Format Station and in order not to step on toes I did drop it…CGR/NWAIS Radio is not owned as mentioned by any low power station such as 102.7 or 99.9 FM…
Below are links on how to tune in and the main page….with ways to hear both networks(some public places,libraries and offices MAY have a firewall)to block them but the listen links do work…and are on 7/24/365 and FREE.
Knowing that the older generation are using apps for phones and devices(CGR NWAIS does not have an app but can be heard on several apps)by downloading and searching "CGR Radio Network 1 and 2),but is ALWAYS finding ways to make is easy access to gain the important programming for those in nursing homes, I did start a petition for our local Comcast to carry CGR 1 for those who may not use or care to use an app via a un used cable access channel like others in the US…it has been since 2008 when a local TV station carried a service via THE SAP/Spanish Option..
Here are the links….also is a video done by KGW TV on CGR Radio…..I THANK YOU..
https://cgrradio2.wixsite.com/cgrradio

CGR Radio 1 News-Info-Community Programming
http://station.voscast.com/5bb29904b7f28/
CGR Radio 2-Arts-Entertainment-Community Programming

http://station.voscast.com/5c54a781c884c/

CGR/NWAIS Radio Networks can be heard on many apps for phones and devices..(ex: Nobex Radio Phone App, TuneIn App, Serotek(Sero)/Iblink Radio App and more!).
CGR/NWAIS Radio Networks(CGR 1 and 2)Where you can Search for on the above..
CGR-NWAIS Radio serves The 50 Plus, Blind and Visually Impaired Community and The Growing Community of Farmers and Ranchers in our Area with News,Info,Community,Educational and Entertainment, both Networks are VERY Target Specific and with the intended audience.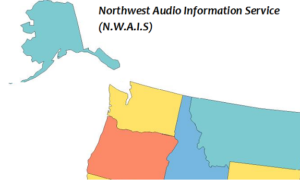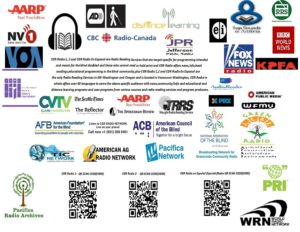 Comments
---