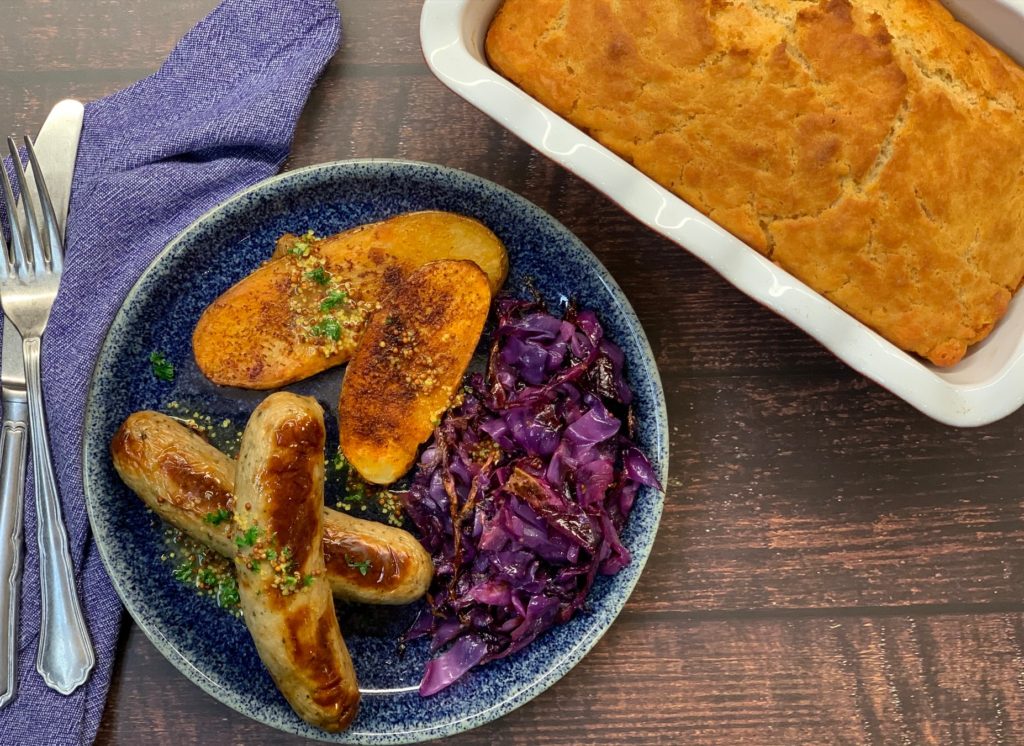 It's Fall!  Welcome the cooler breezes and turn on your oven again. Feed everyone quickly with a sheet pan dinner so easy you can make it on a weeknight. Save a bundle but don't skimp on the fun with this Sheet Pan Oktoberfest. Filled with German flavor, it's family fare that's easy to do right at home.
Everything cooks in one pan and lining it with aluminum foil means there's no clean up. Brushing the cabbage with a simple glaze makes it extra flavorful and enhances the sweetness cabbage gets naturally as it cooks. I turned only the sausages at the halfway point. The cabbage and potatoes were still nicely browned on the bottom and softened up beautifully. Be sure to use your bottom oven rack for roasting. 
Sunny's recipe calls for Hot Honey, and she particularly likes the Mike's Hot Honey brand. I had a large bottle of local honey on hand, so I tried making my own. If you have red pepper flakes and some hot sauce, it's very easy to do and will save you from buying another condiment. You can use it on roasted veggies, baked salmon, or fried chicken and biscuits. Add it to a cheese plate, spread it on toast, drizzle it on pizza, or try a teaspoon in your homemade vinaigrette. It lends just a tiny bit of heat to the sweetness of the honey, and adds great flavor to this recipe. If you choose not to strain the honey, it will get hotter over time. (I decided to strain!) Store in your pantry, as you would with regular honey. 
A loaf of Honey Beer Bread is a nice addition, perfect here because it's a quick bread that's easy to make. Follow exactly as below, or for something a little different, try adding one chopped clove of garlic, 1/4 cup of grated Parmesan cheese and one tablespoon of chopped fresh rosemary. I had a bag of Bob's Red Mill Paleo Flour that I wanted to finish, so I tried making a second loaf using gluten-free beer. The gluten-free loaf turned out as nicely as the first loaf, and it was delicious, too. Enjoy!
Sheet Pan Oktoberfest 
cabbage
4

 

1/2-inch thick slices red cabbage
2 Tablespoons olive oil
1 teaspoon grainy Dijon mustard
1 Tablespoon orange juice
1 teaspoon hot honey (such as Mike's Hot Honey)
kosher salt and freshly ground black pepper
potatoes and sausage
2 russet potatoes, sliced into 1/2-inch planks lengthwise, patted dry
olive oil, for brushing
garlic powder, for dusting
onion powder, for dusting
paprika, for dusting
kosher salt and freshly ground black pepper
4 bratwurst or knockwurst sausages
mustard sauce
1/2 cup orange juice
1/4 cup grainy Dijon mustard
1/4 cup chopped fresh parsley
1 Tablespoon hot honey (such as Mike's Hot Honey)
kosher salt and freshly ground black pepper
For the cabbage: Preheat the oven to 400º F. Line 2 rimmed baking sheets with nonstick aluminum foil. Lay the cabbage slices flat on the baking sheets, two slices per sheet. In a small bowl, whisk olive oil, Dijon mustard, orange juice, honey, a pinch of salt and a few grinds of black pepper together. Brush mixture over cabbage, then flip cabbage over and brush again.
For potatoes and sausage: Place potato planks on baking sheet with cabbage, dividing evenly between the two sheets; brush both sides with olive oil. Sprinkle both sides with a dusting of garlic powder, onion powder, paprika, a pint of salt and a few grinds of pepper. Add bratwursts,  two per sheet, and brush with oil. Roast, flipping everything halfway through, for 30 to 35 minutes. 
For the mustard sauce: In a small bowl, stir orange juice, Dijon mustard, parsley, honey, a pinch of salt and a few grinds of pepper together. 
Chop cabbage and transfer to a plate, along with the potatoes and bratwurst. Drizzle mustard sauce over the top and serve immediately. 
-recipe by Sunny Anderson, foodnetwork.com
Hot Honey
1 cup honey
2 Tablespoons chili flakes
optional: 2 teaspoons hot sauce or apple cider vinegar*
Add honey and chili flakes to a small pot and warm over medium heat. Gently heat the honey until small bubbles form along the edges of the pan; remove from heat.
Let honey infuse for 5 minutes. If using hot sauce or vinegar, stir into honey now. 
Optional: strain honey through a fine-mesh sieve into a clean glass jar. 
*Adding a vinegary hot sauce, like Frank's or Tapatio, or apple cider vinegar will add a slight tang, similar to Mike's Hot Honey. Using hot sauce will also give the honey a vibrant red color. 
Honey Beer Bread
3 cups all-purpose flour
1 Tablespoon baking powder
1 teaspoon fine sea salt
1/4 cup honey*
1

 

12-ounce bottle beer
1/4 cup butter, melted
Preheat oven to 350º F. Combine flour, baking powder, and salt in a large mixing bowl and stir together. Slowly pour beer and honey into the flour and stir until combined. Pour half of melted butter into the bottom of a 9×5-inch bread pan. Using a brush, spread butter to grease the bottom and sides. Add batter and spread evenly. Pour remaining butter over the top, then use a brush to spread.
Bake 40-50 minutes, or until a toothpick inserted in center comes out clean. Transfer pan to a wire rack and let cool for at least 10 minutes before removing. Serve warm. 
*If your honey seems thick, warm it in the microwave or on the stove beforehand so it will mix into the batter easily. 
-gimmesomeoven.com