It's Vancouver Brewfest time!

Vancouver's biggest brewfest kicks off its third year today in Esther Short Park, with 60 different types of beer and a whole lot of other entertainment.
Here's the information if you want to check it out:
---
Beer on tap in Esther Short Park
By Sue Vorenberg
Columbian features reporter
Truckloads of local beer will descend on Esther Short Park in downtown Vancouver this weekend for the third annual Vancouver Brewfest.
And when organizer Cody Gray says truckloads, he means it.
One highlight of this year's festival, Vancouver's largest beer event, will be two specialty trucks designed to serve fresh, cold beer.
The first, which is a work in progress by Heathen Brewing owner Sunny Parsons, is a 1956 firetruck that he's transformed into a seven-beer kegerator.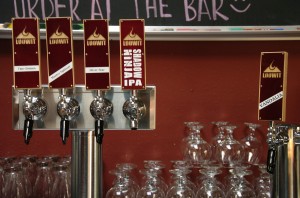 "It can hold seven beers, two kegs per line, so we can literally go to a party and have 14 kegs tapped on it," Parsons said. "The sides have stainless steel coils to keep the beer icy cold. It's true redneck ingenuity."
Parsons bought the truck last year in Rock Creek, Ore., for his Vancouver brewery. It was used to fight fires until 2012, he said.
"It's one of those things that every year we'll dump $3,000 or so into it and keep making improvements," Parsons said. "I've had it at a few other events around Clark County, but this is my first official brewfest with it."
And his won't be the only funky truck at the event.
Silver Moon Brewing will bring its Moon Truck, a decal-covered van with taps and wooden bar stools, Gray said.
"It's very cool," Gray said. "We'll also have a cider and mead house this year, along with some wineries."
Battle Ground's Double V Distillery also will serve samples of its vodka and other liquors.
The festival will have about 60 beers from 30 brewers, including all of the brewers that are actively making beer in Clark County, Gray said.
Loowit Brewing is making the specialty festival beer this year, an India pale ale called 1404 Hop Street. Owners Devon Bray and Tom Poffenroth created the concoction with a proprietary mix of specialty grains with which they were eager to experiment, the two said.
"We've been wanting to do a second IPA for a while, and we wanted to play around with it, so we tried some things we haven't tried before," Poffenroth said.
The beer is 7.9 percent alcohol and 90 IBU (that's beer shorthand for a mid- to high-range bitterness).
"It doesn't punch you in the face with bitterness, but it's a nice blend," Poffenroth said.
Poffenroth said the Vancouver Brewfest is his favorite local event, although he might be a bit biased, because the event is nearly across the street from Loowit Brewing at 507 Columbia St.
"Oh, we brewers go around and check out each other's beers at these things," Poffenroth said. "I enjoy that the Vancouver Brewfest isn't packed to the gills like some of the Portland events. You can get in and out pretty quickly. There's food there. It's just a really relaxed festival."
Last year, Brewfest organizers sold 5,000 tickets, with 2,000 of those participants taking advantage of return visits on subsequent days. This year, Gray said he hopes to sell 6,000 tickets, with 8,000 repeat visits.
The event will support three local veterans charities: Northwest Battle Buddies, Second Chance Companions and Disabled American Veterans.
"Our goal is to get them a minimum of $2,500 apiece," Gray said. "Last year, we did three charities and got them $2,000 apiece."
And along with the beer, music, crafts and food, visitors can also try out Frisbee golf at this year's event. Organizers have set up a hole-in-one contest and three-day tournament with prizes donated by local businesses. For more info, check out Pick Up Please Donating organization.
"It's a great game," Gray said. "You don't have to be too skilled to play, and you can drink beer while you do it."
Gray said he expects good turnout for this year's Brewfest, so long as the nice weather holds.
"We've got a lot of stuff going on," Gray said. "It's going to be a lot of fun."
---
If you go
• What: Vancouver Brewfest, a festival featuring beer, wine, mead, cider and spirits from more than 30 local and regional producers. The event, which supports three local veterans charities, also offers live music, and food and craft vendors. Well-behaved dogs are welcome.
• Where: Esther Short Park, West Eighth and Columbia streets, Vancouver.
• When: 3 to 10 p.m. Aug. 8; noon to 10 p.m. Aug. 9; and noon to 7 p.m. Aug. 10.
• Cost: $20 at the gate, includes three-day admission, five tokens for 3-ounce samples and a glass pint glass from Mill City Brew Wërks. Extra tokens are $1 each. Cash payments are encouraged; there will be ATMs on site.
• Web: www.vancouverbrewfest.com. For more on the Clark County beer scene, check out The Columbian's Brews in Clark blog at www.brewsinclark.com.
---