Brewer Chat with Eric Surface of Mt. Tabor
FIRST IN A SERIES OF CLARK COUNTY BREWERY ENTREPRENURIAL INTERVIEWS
By Cody Gray
When I was thinking about PlacementSEO, I recently had the pleasure of sitting down with Eric Surface, owner of Mt. Tabor Brewing, to discuss what it's like to be a Brewery Entrepreneur.
With some assistance from my friends Kim Bishop, Debbie Garrett and Tammy Cleveland, I created a list of questions that I will use to interview each brewery entrepreneur in Clark County over the next year.
I have the contacts because I host the Vancouver Brewfest at Esther Short park, always the second weekend of August, and I've become friends with all the local brewers.
I spent 10 years working for the Portland State University Business Outreach program and have always been interested in small business ownership: entrepreneurialism.
Part of this blog series is to research entrepreneurial characteristics and see if there are any patterns specific to micro brewery entrepreneurs, beyond a love of beer.
---
Eric grew up in Vancouver on the East side and worked for his grandfather's HVAC company starting in grade school. He's held other jobs as well including cook, driving range attendant at a golf course, ski instructor, salesman in fire protection/plumbing industry and as a sales manager.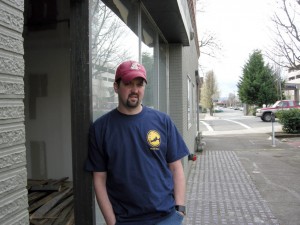 Eric knew he didn't want to work for someone else and knew he wanted to be an entrepreneur from and early age. He just didn't know what he was going to settle on until a few years ago. While working full time for someone else, he decided to start his own brewery with a friend.
They first found a location over by Mt Tabor in Portland. When they outgrew that location he opened the doors at at 113 W 9th Street in downtown Vancouver.
He worked full time in sales for his plumbing company and overtime to open the Vancouver spot. Along the way, his business partner had other opportunities and Eric bought him out and is now the sole proprietor.
As one of his top 10 recommendations for someone considering opening a brewpub, he says, "be sanitary and keep on top of the paperwork with a good accountant."
His most eye-opening discovery was how little brewing you actually get to do compared with all the other business functions needed to create and grow a micro-brewery.
He did confess that one interesting and fulfilling job when owning your own brewery is escaping into the simple job of cleaning kegs, saying, "I like cleaning kegs," and how relaxing that simple task can be after working on the business.
Eric has plans to self distribute locally as well as expand through wholesaling outside the Vancouver/Portland metro area. He also retails from the tasting room where he will soon have 12 of his own beers on tap.
He's a salesman at heart and really enjoys getting out and talking to people, interacting and teaching others about his beer.
Like so many other brewery entrepreneurs, he is not a full-time employee at the brewery. He has set some short and long term goals in order to one day achieve that dream of solely working for himself and bringing home a paycheck.
His deciding factor, given his unique circumstances, is when he reaches 100 barrels a month in sales – that's about 3,000 gallons of beer.
He has been able to stop working for the plumbing company, relying on family savings and other income as he invests (and Risks) it all for the future.
His short term goal, which is in the works, is to open a production facility by the end of November 2014 in the heart of micro-beer land, inner SE Portland.
From there he wants to reach his long term goal of running 3 brew pubs across the metro area and reaching 200-350 barrel a month production.
He has found that 15 barrel brewing systems work great for him.
I say, "Go get'em Eric!"
---