CJ McCollum's masterpiece powers Blazers to 98-94 win over Kings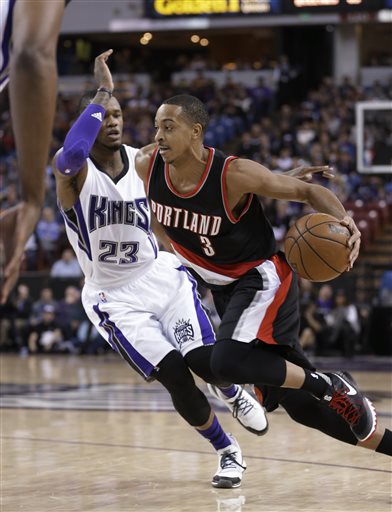 CJ McCollum's breakout season hasn't gone unnoticed around the NBA, but Sunday night he put on one of his best performances as a professional and showed that maybe he deserves more credit for Portland's top-seven offensive attack. But what made McCollum's performance so impressive was his impact on all aspects of the game. It was the type of performance that takes a player's perception from scorer to rising star.
McCollum finished with 35 points, 11 rebounds, nine assists, four steals and a block to lead the Blazers to a 98-94 win over the Sacramento Kings. McCollum filled the stat sheet and hit clutch shots down the stretch. McCollum is the first player since Kevin Garnett in 2004 (also against the Kings) to record 35 points, 11 rebounds, nine assists and four steals. He was the first Blazer to put up numbers like that since Clyde Drexler in 1992.
It was this type of night for McCollum and the Blazers.
https://vine.co/v/iqWjd37bXWh/embed
DeMarcus Cousins had 31 points and Rajon Rondo had 15 assists. But everyone will leave this game talking about McCollum and the Blazers playoff hopes got a nice boost.
The only thing that appeared to slow McCollum down Sunday night was playing too many minutes. He appeared gassed early in the fourth quarter, but Stotts got him back in the game with 8:31 left and the Blazers up 85-84 to help the Blazers hold on.
Of course, McCollum had help. Meyers Leonard recorded his first double-double of the season with 16 points, 11 rebounds and two assists in 30 minutes off the bench. Moe Harkless had one of his most productive outings and Tim Frazier made all of the little plays down the stretch as he was part of Portland's closing line-up.
For the second straight night, the Blazers jumped out to an explosive start with McCollum and Allen Crabbe scoring almost at will against a porous Sacramento Kings defense. The Blazers jumped out to an 11-3 lead thanks to their backcourt who picked apart the Cavaliers on Saturday night.
On the other end, the Blazers struggled to keep up with Sacramento's pace. Like a classic George Karl-coached team, the Kings get up and down the court. This season they lead the NBA in pace, averaging the most possessions per game. Demarcus Cousins beat the Blazers down the court several times and Rudy Gay finished a highlight reel alley-oop in transition that caused the Blazers to call a time out. Rondo even hit a couple of 3-pointers to go along with 10 assists. But scoring the ball wasn't an issue for the Kings early in this game.
Thanks to sloppy offense from the Kings, Portland was able to stick around by making up things on the margins despite the fact that field goal percentage and rebounds were strongly in Sacramento's favor.
Meyers Leonard appeared to have more confidence, once again. It's an encouraging sign for the Blazers that he's shooting with less of a conscious because at times his hesitation hurt the offense. But McCollum carried the Blazers offensively. He and Crabbe provided a strong perimeter threat.
The Blazers had another injury scare in the second quarter when Allen Crabbe tweaked his right ankle when landing after a jumper.
https://vine.co/v/iqa9W9lQm3Y/embed
It appeared as though Sacramento's Marco Belinelli was in Allen Crabbe's landing space after the jumper. NBA rules indicate that there should be a proper landing space for a jump shooter. Crabbe left the game at the 8:32 mark of the second quarter. But Crabbe returned and appeared to play without major limitations.
The game remained a nip-tuck game into the intermission.
Early in the third quarter Mason Plumlee picked up his fourth foul, but let Plumlee stay in the game, trusting him to not pick up his fifth foul. But Plumlee picked up a stupid foul with 5:41 left in the third quarter after a turnover when he tripped Rudy Gay roughly 70 feet away from the rim. Plumlee was given a flagrant 1 as it was not a basketball play. This caused Stotts to give Meyers Leonard the task of covering Cousins.
Leonard was ready for the task and probably gave more proof to the theory that he is miscast as a power forward and is a more natural center. Leonard kept knocking down shots and did his best to hold his own against Cousins on the block, which suits him much more than guarding power forwards. His strength on the block appeared to bother Cousins more than most players who guard him do. The Blazers went small with their second units without Ed Davis, putting four smaller players around Leonard.
Harkless was aggressive, which is usually his biggest problem. He had one of his better games as a Blazers with 13 points and he played 33 minutes in a pinch, earning the final minutes over Al-Farouq Aminu and Allen Crabbe.
The Blazers have shown more in the last two games than they did at any other point in the season with back-to-back wins without Lillard. But the absence of their two-time All-Star provided his backcourt buddy a chance to show that he can take over a game and lead a team to victory in a tough situation.
Notes
With the win, the Blazers are 13-20 and are 1.5 games behind the Utah Jazz for the 8th seed in the Western Conference. The Blazers were flirting with bottom-four territory only a few days ago and now have the playoffs back in their sights. This season will likely be a constant flow between those two positions in the bunch at the bottom of the Western Conference.
Lillard's absence may have had an unintended consequence of helping Leonard find his confidence. With a host of available shots, Leonard has had no choice but to step up. He delivered tonight and showed the type of force he can be. Center is where Leonard belongs and while it's unlikely he'll get minutes there this season it should be his long-term position. Plumlee has been excellent this season and the team's leader in real plus-minus. But Leonard showed that grading his performance at power forward may be an incomplete view of what Leonard can be as a player.