Blazers, Lillard and McCollum, tune out Jazz 108-92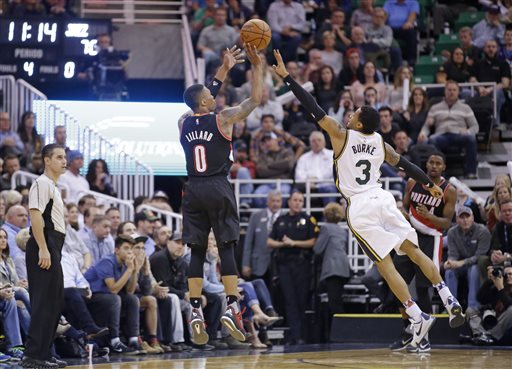 The Portland Trail Blazers defeated the Utah Jazz 108-92 Wednesday night behind 35 points from Damian Lillard and 27 points from his backcourt mate CJ McCollum.
After the Jazz jumped out to a quick 7-2 lead, the Blazers roared back with Lillard and McCollum–who else?–leading the way. Lillard was more aggressive in looking for his shot while McCollum felt his way through, picking his spots with precision. Lillard's aggressiveness and McCollum's microwave organic efficiency provided the juice for Portland to hang 108 on the league's best defense.
After guiding the team to a win in Minnesota with 34 points the night before, Lillard had the full arsenal on display for most of the night, testing the vaunted Jazz defense like they haven't been so far this season. Lillard even survived a knee to the face from Rudy Gobert.
https://vine.co/v/eLOOJpdP20P/embed
McCollum didn't miss a field goal attempt until the second half. The duo combined for 36 of Portland's 57 first half points, which was enough to have an eight point lead at halftime.
The Jazz are pretty good, or at least expected to be by many–including me. The number one reason to believe in them is their defense, which has been No. 1 in the NBA in points allowed per possession since the All-Star break last season and into the first few games of this season. Rudy Gobert had some Stifle Tower moments but the Jazz didn't have it defensively Wednesday.
It definitely didn't help the Jazz that starting power forward Derrick Favors–also an excellent shot blocker and rim protector–was playing through a flu-like illness.
For much of the game, McCollum and Lillard exploited the one clear weakness for the Utah defense: the point guard position. Trey Burke got embarrassed trying to cover McCollum and Lillard while Raul Neto did not fare much better. Neither one are the long, rangy defender that the injured Dante Exum is and that forced the Jazz to try to hide Burke and Neto onto other players.
In the fourth quarter, Quin Snyder went to a no-point guard line-up which cut into Portland's lead. But only for a brief time as McCollum helped build the Blazers lead back up again.
With McCollum making some shots to extend the lead, Snyder brought Burke back in only for Moe Harkless to get an easy post-up basket on him shortly after. Harkless–it should be noted–had a fantastic game with 15 points and 10 rebounds after receiving a windfall of minutes thanks to the Meyers Leonard injury.
The Jazz simply didn't have an answer for the Blazers perimeter duo tonight, putting together one of what will be many signature performances to come.
Notes:
The Jazz also struggled offensively, both thanks to missing open shots and the effort of the Blazers defense. Portland's defense has been ahead of their offense in the early season and they showed great effort as they have so far this season. They contested shots around the basket, rarely conceded easy transition buckets and were solid again. Portland's defense has not been great–in fact, it's been around the league average. They had a defensive rating of 96.3 tonight which will definitely help their ratings in the league. Young teams don't often play solid defense but the the Blazers are playing good enough to win and with more consistency than expected. McCollum and Lillard will have off nights, but we know they'll have great ones as they had tonight. The defense will help the Blazers weather those storms and without playing as well as they have so far, they likely wouldn't be above .500 like they are.
The two-game trip against the Timberwolves looked like a short, but tough one coming in. The Blazers notched two solid wins against teams playing in their home opener, bouncing back after two bad losses against the Suns.
The Meyers Leonard injury will bring an interesting conundrum for Terry Stotts if it causes him to miss time, which it almost certainly will. The fact that Leonard didn't return is a sign that the injury was worse than usual, considering Leonard came back from a similar type of injury during a preseason game. This one was evidently more severe. UPDATE 10:34 PM: Jason Quick of CSNNW.com reports that Leonard heard a "pop" and his return is unknown. So yeah, it's worse. So who does Stotts go to? He started Davis alongside Plumlee at the start of the 2nd half, which was horrendous offensively in small sample. If I were a betting man, I would guess we see Moe Harkless in the line-up at small forward like we saw at the end of the game tonight. Harkless allows the Blazers to move Aminu to the 4 while not giving up size at the three. Maybe we'll see Allen Crabbe, but Memphis's bruising style makes me think we'll see the bigger Harkless.
Speaking of Harkless, is there a regression coming or is this just him? Same for Al-Farouq Aminu. They're both shooting 50 percent from long range. Harkless is 6-of-12 from 3 and Aminu is 8-of-16. Obviously they're going to regress at some point, but if they can continue to be above average 3-pointers for the whole season, that's a major boost for the Blazers. With Leonard struggling and hurt for who knows how long, they're going to need the newcomers to keep it up.
Aminu's aggression and emotion every night has been noticeable, something that I talked about this morning on Dusty and Cam. He did a great job making Gordon Hayward's night a living hell and took another rebound coast-to-coast for a basket, which is quickly becoming a staple of Blazers games.
I know Steph Curry exists, but 34 on Monday and 35 tonight have to help Lillard get a little love for Western Conference Player of the Week.