High School Sports
0
Cast your vote for the top play of week 2 of the high school football season here. Each week, The Columbian's 360 Preps team compiles the best highlight from around Clark County and puts you, the reader, up to the task of choosing the week's top play. Week 3 had many game-changing moments. Voting closes […]
September 18, 2018 11:25 am
1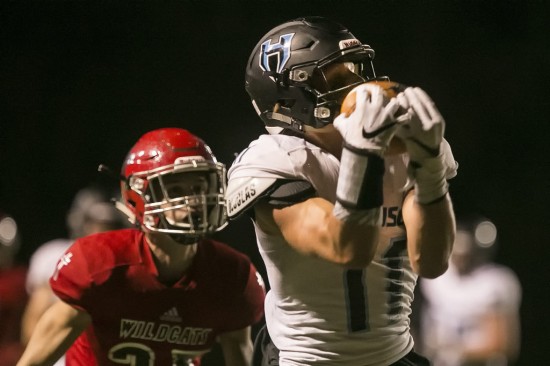 1. Sawyer Racanelli, Hockinson: 20 receptions, 412 yards, 5 touchdowns The junior caught four passes for 142 yards including a 35-yard touchdown as the Hawks beat R.A. Long 59-7 in week 3. 2. Peyton Brammer, Hockinson: 14 receptions, 296 yards, 4 touchdowns An efficient line — two catches, 85 yards and a touchdown — for […]
September 18, 2018 10:38 am
2
1. Yaro Duvalko, Skyview: 70-106, 929 yards, 10 touchdowns The Skyview junior tossed 39 passes —23 of them completions — for 315 yards, a touchdown and a pick in the Storm's week 3 loss to Mount Si. 2. Levi Crum, Hockinson: 49-67, 850 yards, 13 touchdowns Threw just 13 passes but completed 10 of them for […]
September 18, 2018 10:31 am
3
Oregon commit Cale Millen has a big game against Skyview.
September 15, 2018 2:10 pm
4
WOODLAND 29, WASHOUGAL 26 Woodland 8 14 0 7 — 29 Washougal 7 7 0 12 — 26 First quarter Wo. — Tyler Flanagan 1 run (conversion good) Wa. — Dalton Payne 1 run (Peter Boylan kick) Second quarter Wo. — Flanagan 5 run (kick blocked) Wo. — Kenyon Guy 27 pass from Flanagan (conversion […]
September 15, 2018 8:54 am
5
Hear reactions from Woodland's Tyler Flanagan and Christian Yager, along with Washougal's Dalton Payne and Brevan Bea. Read the game story here. For photo gallery, click here. Andy BuhlerColumbian sports writer.
September 15, 2018 12:51 am
6
WOODLAND — Mike Woodward sees a lot he's familiar with when preparing for Washougal. So much so, he playfully refers to them as "Woodland East." Both programs attract a similar type of toughness, he says. That's what he's telling his team as the Woodland Beavers (2-0) prepare to travel to the 'Shoug for the 2A […]
September 13, 2018 8:47 pm
7
1. Heritage's Kahai Umiamaka returns interception for TD (24.16% votes) All it took was a quick sidestep after swiping an errant throw for Umiamaka to find the open field. He returned the pick 31 yards for a score — he had three total — to lead the Timberwolves to a 38-28 win over Hudson's Bay. […]
September 12, 2018 12:19 pm
8
Cast your vote for the top play of week 2 of the high school football season here. This football season, The Columbian is doing something new. Each week, we will compile the best highlight clips from around Clark County and put the task of choosing the week's top play up to the fans. Week 2 […]
September 10, 2018 3:24 pm
9
Highlights and interviews from Heritage's win over Hudson's Bay on Friday. To read the game story and stats, click here.
September 8, 2018 12:12 pm